Map of Changwon- South Korea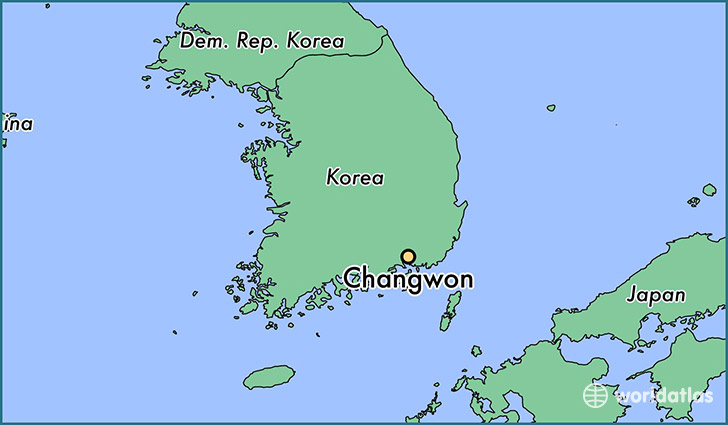 Changwon is the capital city of Gyeongsangnam-do, South Korea. Changwon is the 8th most populated city in South Korea, with an established population of 1,089,039 people in 2010. It encompasses a land area of 747.12 square kilometres (288.46 sq mi) on the southeastern coast of South Korea. The population of southeastern Korea, including the city of Busan, is more than 6,478,000. Changwon is known as a heavy industrial city. The city only covers 7% of Gyeongsangnam-do province, also known as Gyeongnam, but holds 33.6% of its population; it also accounted for 38.5% of the total 2.1821 trillion won budget of the Gyeongnam province.
In 209 AD (Naehae 14), during the Three Kingdoms period, Changwon was named Gulja-gun, a province of the Silla kingdom. In 757 (Gyeongduk 16) Changwon was renamed Uian-gun during the reorganization of all Silla provinces.
In 1408 (Taejong 8) during the Joseon period, King Taejong established Changwon-bu. In 1415 (Taejong 15), King Taejong renamed Changwon-bu to Changwon-dohobu and it became the capital of the Gyeongnam province.
On April 1, 1974 Changwon was designated 'Industrial Base Development Area No. 92.' As a result, the city was developed and significantly expanded.
On July 1, 2010, the neighboring cities of Masan and Jinhae merged with the city to form a single larger urban area that makes up the current city of Changwon. These three constituent cities are located in the Masan Bay Area.
Population: 1 106 195 (2016)
Language: Korean, English
Currency
The won or the Korean Republic Won is the currency of South Korea. The currency code for Won is KRW, and the currency symbol is ₩.
Geography
Changwon is located on the southern coast of Korea and has Masan Bay and Jinhae within its boundaries. The city is surrounded by a series of ridges, with Mt. Bulmo (802 metres (2,631 ft)), Mt. Jeongbyeong (567 metres (1,860 ft)), and Mt. Jangbok (582 metres (1,909 ft)) as the highest peaks. The wide alluvial plain of the northeastern coast of the Nakdong River is considered the breadbasket of South Gyeongsang Province.
Dot island, Sokuri island, and several uninhabited islands are part of the city.
Climate
The city has four distinctive seasons. The average temperature is 12.9 °C (55.2 °F) and the average annual precipitation is 1,527 millimetres (60.1 in). From 1992−2001 the average annual temperature was 15 °C (59 °F) and the average annual rainfall was 1,395 millimetres (54.9 in).
Between 1980 and 1990 there was an annual average of around 116 sunny days a year (32 percent of the possible total), and between 1990 and 2000 an average of 135 (37 percent).
The driest year on record was 1994, with a total of 718 millimetres (28.3 in) of precipitation; the wettest year was 1991 with 2,046 millimetres (80.6 in).
Economy
Changwon city is a hub of factories that heavy industry for many major companies, including Samsung Techwin, GM Korea, LG Electronics, Hyundai Rotem, Doosan Heavy Industries & Construction, Doosan Infracore, Doosan Engine, Hyosung, Hyundai Wia and STX Corporation. And also Jinhae-gu there is Korea Naval Base (Republic of Korea Navy) that is main economy. Masan has Export processing zones,it is like a free port zone. Changwon city is the capital of Gyeongnam-do(state). So Changwon has many government agencies.
Gross Regional Domestic Product of Changwon city is 21.7 trillion won which is higher than that of Gwangju and Daejeon. It earned 29 billion dollars through exports in 2008, higher than that of Busan, Gwangju, Daejeon and Daegu.
Health care
Korea Accident Medical Center in Changwon, National Masan T. B. Hospital, Hanmaum Hospital, Changwon Fatima Hospital, Jinhae Naval Hospital and Changwon Samsung Hospital-Sungkyunkwan University.
Changwon Department of Public Health is health institutions in Changwon city to improve disease prevention, care and public health.
-Changwon Health Center, Changwon Health Promotion Center, Masan Health Center, Jinhae Health Center.
Culture and contemporary life
Changwon has many parks and gardens throughout the city which give it a different feel from places such as Busan. For example, Yongji Park contains a small lake with a jet-fountain and hosts laser light shows at night.
The Junam Reservoir is an important bird migration site and the largest in Korea. During the peak winter season, an average of 30,000 to 40,000 birds a day can be seen there.[citation needed] There is a birdwatching festival there each year.
Azaleas bloom on the hillsides around Changwon for a short time in the spring and the city hosts two one-day festivals to commemorate the phenomena. The city is close to the seaside city of Jinhae. Each spring Jinhae has a tree blossom festival that attracts many Changwonians.
Changwon is also home to the Changwon Exhibition Convention Center (CECO), located adjacent to the City 7 lodging and shopping complex. CECO hosted the 2008 conference of parties to the Ramsar Convention.
Changwon Stadium, Changwon Indoor Swimming Pool, Changwon Football Center, Masan Stadium, Masan Baseball Stadium, Jinhae Public Stadium, Changwon West Sports Centre, Gym civic life center, Evergreen Hall.
Transportation
Public transport
Bike sharing
Changwon is served by the Nubija bike sharing system [24] which stands at around 5,000.
Roads and highways
Namhae highway 10, Guma highway 102, Changwon boulevard, woni boulevard, gongdan boulevard, Road 5, Road 25, Road 2. Changwon Cross-Country Bus Terminal Station, Masan Cross-Country Bus Terminal Station and Jinhae Cross-Country Bus Terminal Station.
Rail
The city is on the Gyeongjeon Line (Gwangju-Samnangjin). This line stretches along the southern coast and links Jeolla and Gyeongsang regions. Usually, this line is regarded as a set of branch lines, which feed local traffic into adjacent major lines. Some KTX trains detour to Changwon.
Changwon city has 9 train stations: Changwon central station (Changwon JungAng), Changwon Station, Masan Station, Sin Changwon Station, Changwon south(closed), Sungju temple station (closed), Ducksan Station, Jungri station.
Changwon is also served by the Jinhae Line.
Seaports
Masan port is main port in changwon city.
Changwon port is sub port of Masan port.
Jinhae port is a port of Korea Navy.
Pusan New Port is new port in Korea. It is located between Busan and Jinhae.
Airport
Gimhae International Airport (PUS) is 35 km away from the city center. In 2010, the airport was the 3rd busiest in South Korea, handling over 8.2 million passengers.
Metro
Changwon city government plan to build a metro system in 2021. It is planned to be 33.9 km (21.1 mi) through the city.